Resource Library
Signet Support and Supplier Training
Signet provides training resources for suppliers, auditors and other stakeholders to understand the requirements of the SRSP and subsequent audits.
Signet suppliers seeking direction or guidance on a specific Signet Responsible Sourcing related topic, i.e., "supply chain due diligence," or "compliance requirements for a specific metal or mineral," will find additional resources in the SRSP Toolkit.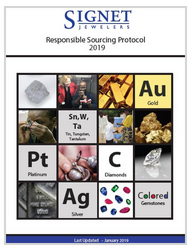 The Signet Responsible Sourcing Protocol (SRSP) outlines the procedures that Signet suppliers must follow to ensure supplies of all products containing gold, 3Ts, diamonds, silver and platinum group metals (PGMs), colored gemstones, and lab grown diamonds (LGDs) are responsibly sourced. It is imperative that all suppliers to Signet can verify the products containing the metals and/or minerals they sell to Signet are compliant with the SRSP.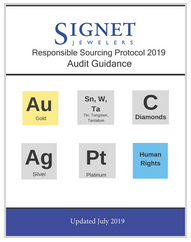 The SRSP Audit Guidance is a detailed guidance document Signet provides for Signet suppliers and auditors to manage the audit process. This guidance is applicable for RJC audits as well as Signet audits.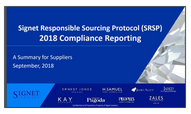 Signet Responsible Sourcing Protocol (SRSP) Compliance Reporting webinar is the live training webinar relating to SRSP compliance reporting and auditing conducted annually for Signet suppliers, internal Team Members and auditors.
All Signet Responsible Sourcing training resources are available for viewing or download in the SRSP Toolkit!
For details of Signet Jeweler's other company policies, codes and compliance, please visit Corporate policies, codes and compliance.